Without doubt, the most recognisable watch brand in the world is Rolex. Synonymous with luxury, a Rolex is a statement, an identifiable mark of someone who appreciates the finer things in life. A brand does not reach this level of recognition without being the best in its field. In a league of its own, Rolex is simultaneously respected, admired and valued around the world. How did Rolex rise to become 'Watch Royalty' and ensure that no other brand could ever take their Crown?
POP CULTURE
Unless you have lived off the grid, you would have been exposed to the brand since you were born. Movies, books, television and music all make references to Rolex. Sean Connery swooned on-screen in his Submariner as James Bond in Dr. No, as per 007 author Ian Fleming's instructions. "He could not just wear a watch" wrote Fleming in the book Casino Royale, "it had to be a Rolex".
Fleming was a Rolex enthusiast himself, and would usually be on-set wearing his Oyster Perpetual Explorer. Entourage fans saw an episode where a potential movie investor gift the group of friends yellow gold Day-Date president watches with diamond-set bezels, the watch that Tony Soprano wore almost every episode of the Sopranos. Off-screen, real-life leading characters are regularly spotted wearing a Rolex on their wrist from sport stars to musicians to political leaders.
PIONEER IN ITS FIELD
Rolex's road to stardom has been long and successful. In 1905, at the age of 24, Hans Wilsdorf founded a company selling timepieces. His vision was to design wristwatches that were both elegant and reliable. He created the name 'Rolex', searching for a name that was short, easy to say and remember in any language. Wilsdorf said that he tried hundreds of combinations of letters, but none of them felt right, then one morning "a genie whispered 'Rolex' in my ear."He strived for precision timekeeping with his watches, and eventually earned recognition for it.
In 1926 Rolex created the first water and dust-proof wristwatch called the "Oyster". In 1927, the claims of this waterproof case were proven by Mercedes Gleitze, a young English swimmer who after swimming across the English Channel, showed how the watch remained in perfect working order.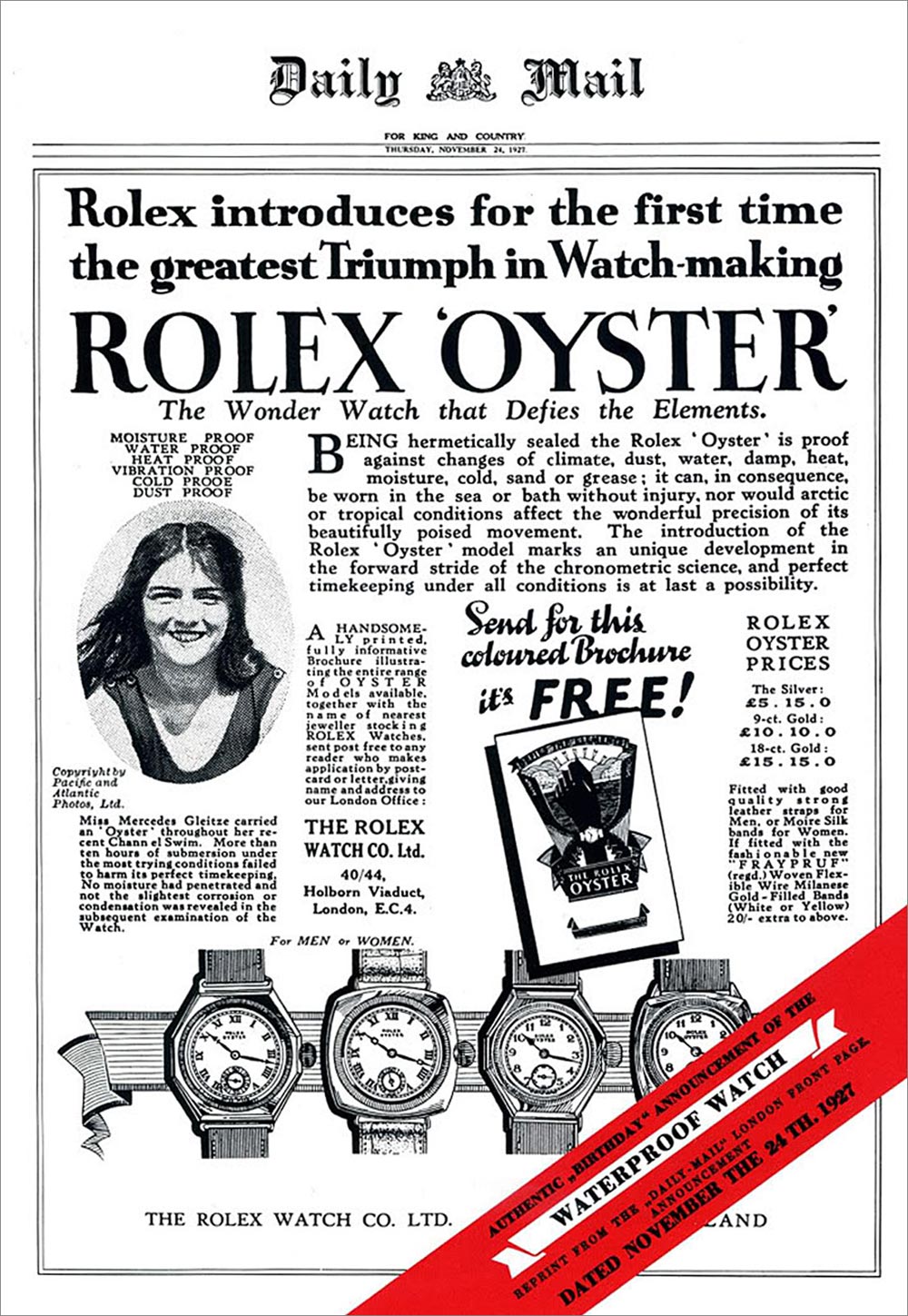 PRECISION CRAFTSMANSHIP
As a vertically-integrated manufacturer, Rolex controls every aspect of the production of their watches. Consistency is key for the brand to produce top quality, extremely reliable watches. Each fine Swiss-made watch is handcrafted (much to the misconception that in the present-day, only machines are involved). It would be an understatement to suggest that Rolex are perfectionists about quality control. For example, Rolex uses a superior type of stainless steel that no other brand uses at is is both difficult to work with and more expensive, but looks much better than the traditional steel used by any other brand. They also make their own gold to ensure the best quality.
They turn 24k gold into 18k yellow, white or Rolex Everose gold. In all, it takes about a year to make one Rolex watch, a claim advertised by Rolex long ago which is still true today. Each watch is meticulously created, assembled and tested. Today, all Rolex watches are accompanied by the independent Geneva Seal of control after rigorous testing and, thanks to the continual development and use of hi-tech materials in their in-house movements, guarantee an accuracy of -2/+2 seconds per day, an astonishing achievement.
PRESTIGE
There are luxury watch brands that come and go, brands that use over-hyped marketing strategies and aim to create a veil of mystery behind their products, often not living up to their grand claims.  None of these brands come close to challenging the dominance of Rolex in the luxury watch market. A Rolex watch delivers real value both aesthetically and mechanically.
Rolex has reached a level of prestige which will never fade. Unlike a trend, it will forever be a covetable item. The everyday wearability of the watch makes it a popular choice for men and women. There is stability in its value. It is reassuring to know your purchase of a watch was a wise one, the test of time has proven its popularity. The appeal of the brand has only continued to grow, long waiting lists for certain models for the worlds most desirable watch, only adds to the allure of Rolex.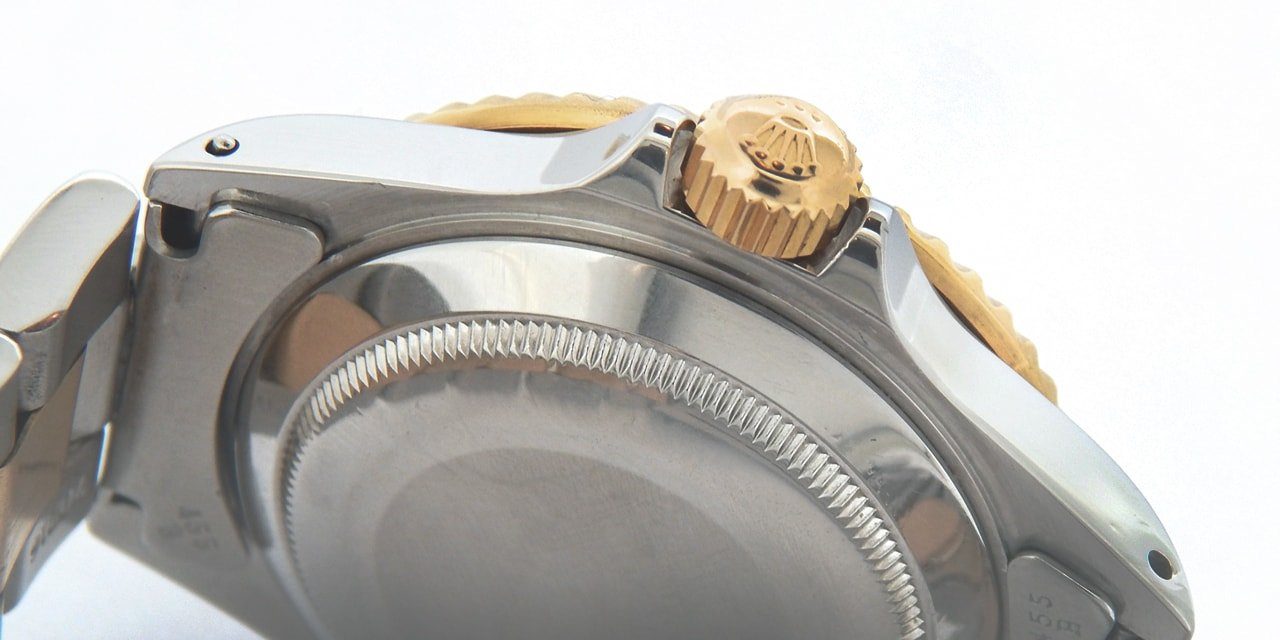 Kings and Queens wear crowns, and no crown is more fitting than the Rolex crown. One of Rolex's company phrases is "A crown for every achievement"and this is as true today as it ever was. A Rolex has become a trademark in its own right. A rite of passage, a perfect gift for special occasions -a birthday, a graduation, a baby. These memorable moments in peoples lives live on forever within their Rolex.
View all Rolex pieces on our online boutique. Click here